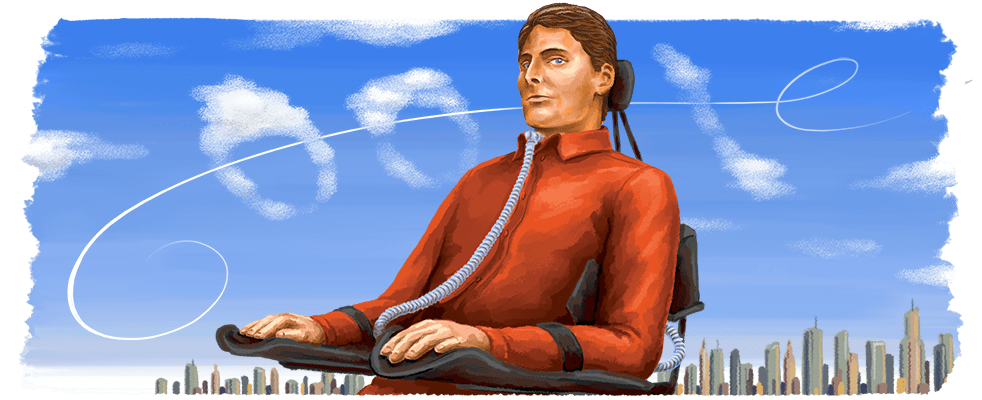 Celebrating what would have been Christopher Reeve's 69th Birthday on 25th September 2021 Google have paid tribute with a Google Doodle.
Today's Doodle celebrates American actor, director, author, and humanitarian Christopher Reeve, who is best known for his spinal cord research advocacy work alongside his leading role in four "Superman" feature films. 
Christopher D'Olier Reeve was born on this day in 1952 in New York City. He graduated from The Juilliard School and made his stage debut in the 1976 Broadway comedy "A Matter of Gravity." After only two years of acting in soap operas and plays, Reeve auditioned to play the Man of Steel himself in the 1978 "Superman" film, landing the role ahead of 200 other aspiring actors.   
throughout his career. Outside of acting, His performance as the iconic superhero in the four-part film franchise launched him to international fame, but he refused to be typecast in action roles. To this end, he brought a diverse range of characters to life both in cinema and on stage he was an enthusiastic equestrian and athlete. In 1995, Reeve was paralyzed from the neck down due to a riding accident; these injuries led him to become an outspoken champion for those with spinal cord injuries and other disabilities across Hollywood, the nation, and the world.
Reeve used his platform to bring increased awareness to topics related to disabilities and dedicated his life to driving positive change for the community. This included sponsoring bills to raise lifetime insurance "caps" to better support people with disabilities and helping pass the 1999 Work Incentives Improvement Act, which secured ongoing insurance payments to people with disabilities even after they return to work. He focused on efforts to directly improve the quality of life for people with disabilities by distributing millions in individual grants through his foundation and serving on the boards of various disability organizations with this aim. Reeve also advocated for support and government funding of responsible stem cell research to further the knowledge and treatment of numerous health conditions, including spinal cord injuries. Calling on Hollywood to draw attention to other important social causes, Reeve led by example with his 1997 directorial debut "In the Gloaming," a five-time Emmy nominated drama centered around a man diagnosed with HIV. 
Today, his legacy is carried on by the Christopher & Dana Reeve Foundation, which he founded in 1998.
Happy birthday, Christopher Reeve—who remains a hero to many both on and off the screen!
https://www.google.com/doodles/christopher-reeves-69th-birthday